LG LRE3023ST Freestanding Electric Range Review
$999.99
Better than
67%
of Reviewed Ovens

Range Performance
Range Performance Overall
Being an electric rangetop, the LG LRE3023ST plays to its inherent electric strength, demonstrating excellent temperature range. However, this electric advantage comes with the price of an added difficulty in zeroing in on the proper temperature. Unlike gas, the user can't see the flame and must deal with a delayed response in temperature change upon adjustment.This is the classic gas vs. electric performance debate.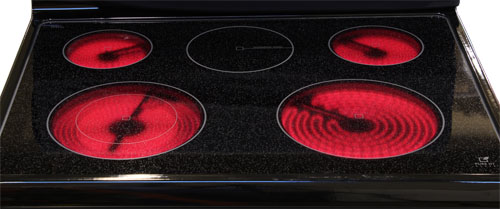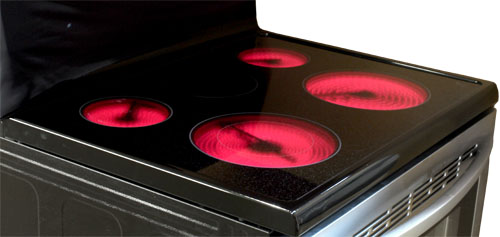 Water Boiling
This is the weakest aspect of the LG LRE3023ST. Peculiarly, this rangetop showed a great average boiling temperature, with an average boiling time of nine and a half minutes to boil six cups of water. But while that was a great average, the quickest boiling elements were both around around seven and a half minutes—slow for most rangetops. It's certainly useful to have many decent elements, but many users require at least one rangetop element that can get a pot of water to 212°F in a hurry.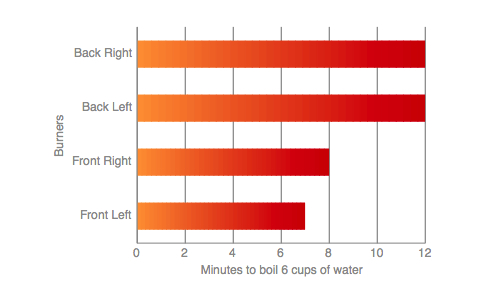 Low Temperature Cooking
The simmering abilities impressed us thoroughly: every burner could maintain a temperature of 96°F or under. This is cool enough to melt chocolate without a double boiler and simmer tiny quantities of sauce or soup.
Range-top Temperature Range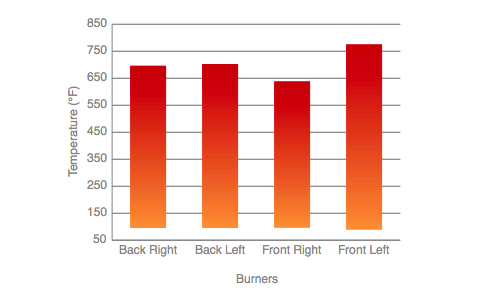 High Temperature Cooking
The high temperature cooking scores were phenomenal, being around as hot as you can get without getting too hot. We slightly penalize elements that run over 750°F by reducing their score, as they can be hazardous especially since electric rangetops can easily be left on. Only one element ran slightly too hot at 775°F, which wasn't a big deal whatsoever. The rest of the elements fell between 638°F and 702°F