LG LRE3023ST Freestanding Electric Range Review
$999.99
Better than
67%
of Reviewed Ovens

Features, Controls, & Cleaning
Features
The standard ceramic rangetop has a fifth keep-warm burner available to keep food warm if it tarries from oven to plate.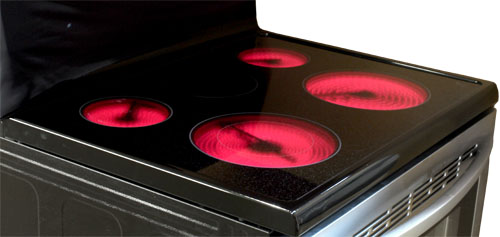 Certainly big enough for the largest of turkeys, the oven has 6.3 cubic feet of space, but its large cavity is only divided by two standard racks. The most important feature—though standard on ovens in this class—is the convection fan, which allows for improved heat transfer and efficient cooking. It can be used in the convection bake and convection roast modes, allowing for the convection fan to be used in conjunction with the normal heating elements to use radiant and convection heat.



The timer is simple and also features a delay bake and timed cook settings that merge the timer to the oven. Of course, the timer may be used independently as well. It's simple and easy to key in the time.


Controls
The LRE3023ST's range controls are a bit odd. Eschewing the standard design of dials that has worked for years, LG elected to install odd on/off and +/- buttons. This unfortunately means more time spent reaching over the hot cooktop—the controls are mounted on the backsplash—and it might be trickier to zero in on the proper temperature.



The oven and broiler controls are standard of electric ranges—located on the backsplash and are simple to use. No endless sessions with the manual required—though we recommend a hearty reading before use.
To adjust the broiler from "Hi" to "Lo," you hit the "Broil" button again before hitting "Start."



Cleaning
The LG LRE3023ST uses a typical pyrolitic method to clean the oven cavity, heating up to a very hot temperature to carbonize the spills. There is also a delay cleaning feature that functions just like delay baking.
LG has a list of approved cleaners for the rangetop's flat ceramic surface. Burned-on residue can be taken off with a sharp razor.