KitchenAid Architect Series II KGRS308BSS Gas Range Review
$1,715.95
Better than
93%
of Reviewed Ovens

Range Performance
Range Performance Overall
All in all, the KitchenAid Architect Series II KGRS308BSS turned in some of the finest boiling times we've seen. Users of this gas rangetop also have the advantage of actually seeing how hot it is, as the flames' size and colors keep the user in the loop far better than the vague glows of coils or glass surfaces. And of course, unlike its electric counterparts, using gas allows instant change of the burner temperature rather than a gradual one.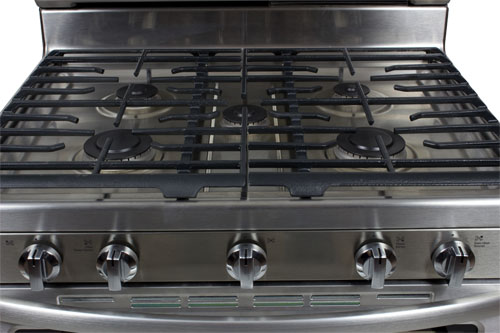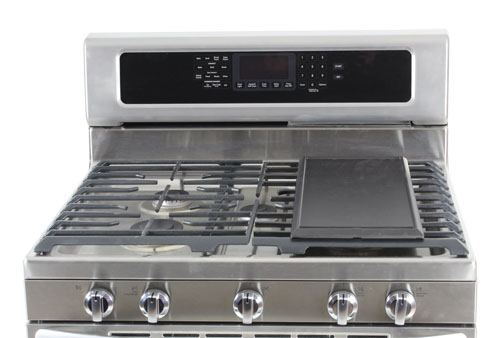 Water Boiling
The front left and right burners boiled six cups of water in five and six minutes respectively, excellent numbers compared to the field. No one wants to wait as a big pasta pot boils for fifteen minutes, and this is when the high performance pays off. The other regular (i.e. non-simmer) burner did well in the rear and was able to boil in under ten minutes.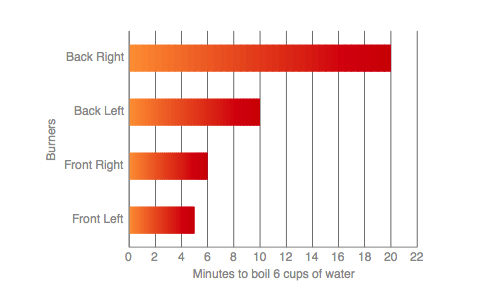 Low Temperature Cooking
The simmering abilities weren't quite as good as the boiling power, as we saw only the rear burners do a good job keeping the temperature low, at 145°F and 130°F for the left and right (the regular and simmer burners respectively). While these numbers aren't particularly impressive, they are much better than the front burners were, as they only got into the 240s. Don't simmer on the front.
Range-top Temperature Range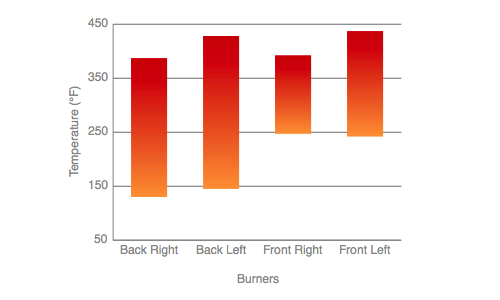 High Temperature Cooking
There is a weird relationship between boiling power and the maximum temperature a burner can get a pan. Intuitively, one would think they are connected, but sometimes cases like the KGRS308BSS show that it's not always that simple. Despite hurrying to the boil, the rangetop couldn't get our test pan that hot in our tests, with the front burners maxing out at 437°F and 392°F for the left and right. The rears were about the same at 428°F and 387°F.