KitchenAid Architect Series II KGRS308BSS Gas Range Review
$1,715.95
Better than
93%
of Reviewed Ovens

Features, Controls, & Cleaning
Features
In addition to the four fantastic gas burners on the rangetop, a fifth 8,000 BTU burner lies in the center for more options. KitchenAid conveniently provides a griddle plate for the center burner when you buy a KGRS308BSS, a nice change from all the "sold separately" speak.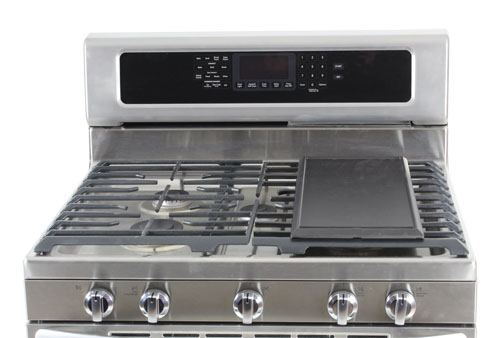 The large 5.8 cubic foot oven cavity is certainly large enough to accommodate the Thanksgiving turkey and whatever else you have to throw into it. Three oven racks divide the space and offer different options: one rack is max capacity, one is split, and one is a "SatinGlide" roll-out extension rack. Of course, a large true convection fan sits at the back circulating the hot air and making things cook more quickly and efficiently.



The timer is straightforward—you just press "timer," enter the temperature, and press start. No leading zeros need be entered.


Controls
The KGRS308BSS's range controls are located on the front, something we like very much as the user doesn't have to reach across a boiling hot stove to adjust the burners. Unlike the fancier double oven KGRS505, it doesn't have controls canted toward the user, but they are still very easy to adjust.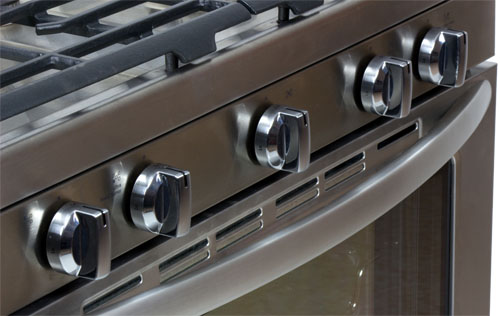 Controlling the KGRS308BSS's oven might look akin to flying a 747, but even with the sea of buttons, it's not so bad. Unfortunately, the oven controls are located on the black panel on the rear guard so your hand might get burned while you figure out how to use it.



The broiler controls are on the back control panel with the oven controls, and allow for multiple temperatures of high, medium, and low.


Cleaning
The cleaning method is different from the normal pyrolitic way. Instead of simply heating up for a long time, the oven uses a water-based system to clean at lower temperatures, called "AquaLift." This also means it takes far less time to clean, something that messy users will definitely appreciate. Under an hour at 250°F is a bit nicer than hours at 550°F.